Registration/Tuition Fees: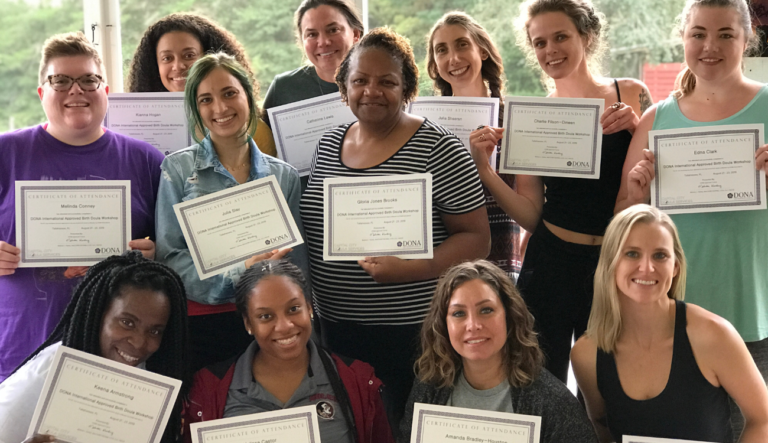 $520 (Doula Training Workshop and Intro to Childbirth for Doulas(Live Online), Digital Manual)
$55 (Optional Breastfeeding for Doulas (Live Online)
$45 OFF if paid in full by 8 weeks before the start; $30 late registration within 1 week of start.
*Note that workshops in May and June are at slightly reduced fees. Fees above begin on July 1, 2023.
Workshop Location and Dates Below
---
2023 Online Birth Doula Training Workshops
August/September 2023 Evening Workshop Dates: 9/5, 9/7, 9/19, 9/21, 9/26, 9/28, 10/3, 10/5
All posted workshops will be held live ONLINE unless otherwise noted. Cities are posted on the DONA site (and here) to help participants find workshops with others in their nearby vicinity. Please feel free to register for the workshop dates that work best for your schedule.
---
Private Workshops
We proudly support the HRSA initiative to increase doulas in Healthy Start Programs across the United States.
Upcoming HRSA Grant Funded Healthy Start Doula Trainings:
February 14-16, Valdosta, GA- Partnered with Healthy Mothers, Healthy Babies Coalition of Georgia
April 11-13, New Orleans, LA- Crescent City Family Services
April 25-27, New Orleans, LA- Healthy Start New Orleans
---
Our DONA International-approved doula workshops include the intro to childbirth for doulas component which meets a secondary course requirement for birth doula certification. We also offer the breastfeeding for doulas course as an optional course. Participants who take all three components (birth doula workshop inclusive of intro + breastfeeding for doulas) will have the three classroom courses required for doula certification. For more information on the certification requirements download the DONA Certification Guide here>>
---