DONA International Advanced Certified Doula
DONA International Birth Doula Trainer
Member, DONA International Grievance, Education, Social Media, & New Website Committees(Co-Chair)
DONA International Director of Marketing and Public Relations
Lamaze Certified Childbirth Educator
Fellow Acadamy of Childbirth Education
Here's a little about Melissa…
In the late 1990's, Melissa felt the urge to pursue her passion of serving birthing women. After the amazing vaginal birth of her twin nieces(Jan 2002), she was captivated and quickly set the ball in motion to make that dream a reality! After attending the DONA International doula workshop, and working through the certification process, Melissa became a certified doula CD(DONA) in May, 2003. After several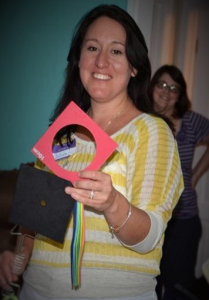 years as a certified doula, Melissa began to feel the urge to fulfill her passion of education through becoming a childbirth educator with Lamaze International. In 2005, Melissa joined the incredible team of educators who represent Lamaze International and Passion for Birth by completing all steps necessary to receive the credential of LCCE.
During the summer of 2007, Melissa began the process of becoming a DONA Approved Doula Trainer. The process included training under some of the nation's top doulas and mentors including working closely with DONA International founder Penny Simkin. The trainer-training process was an exceptional experience and an opportunity for Melissa to put her birth doula skills and educational/mentoring skills together!
Currently, Melissa actively teaches childbirth education classes in her community and has worked with over 1000 couples as a doula and/or educator. She also trains new doulas, mainly in the Southeastern US, having trained over 300 doulas since her approval.   Melissa works hard to make her childbirth classes and doula workshops both fun and educational, joining Passion For Birth in their mission to "stomp out boring" childbirth education! In 2017, Melissa was inducted as a Fellow in the Acadamy of Childbirth Education which honors educators who make a significant impact in the field of childbirth education and maternal health.
In addition to her personal work, Melissa believes in getting involved in the organizations she hangs her hat with.  Melissa has been an active volunteer of DONA International for many years.  She began as a member of the certification committee(2009) and then served two terms as the DONA Florida state representative(2011-2015).  In early 2015 Melissa was appointed to the DONA International Board Of Directors in the position of Southeastern US Regional Director.  Since that time, Melissa has developed a social media committee for DONA, and worked on the education, grievance, and website committees. After spending time on the DONA Board Of Directors, Melissa shifted positions in 2016 to the position of DONA International Director of Marketing and Public Relations. She is also in process to become a trainer for Lamaze International which will allow her to train-up the next generation of childbirth educators!
In addition to working with new doulas and expectant families, Melissa also enjoys writing for childbirth related publications(including the CCDS Blog). She was excited to utilize her skills to write two articles for the Journal of Perinatal Education (JPE) reviewing birth books and materials for readers. In January of 2010, Melissa received word that her submitted essay "A Mother's Strength" would be published in the new book, Bearing Witness: Childbirth Stories Told By Doulas as one of 50 contributions. Melissa was also thrilled to find out that her essay, The Many Faces of Joyful Birth, would also be published a few years later in the 2nd Bearing Witness book, Joyful Birth: More Childbirth Stories Told By Doulas. In late 2014, Melissa was invited to be a guest contributor to the Lamaze International Blog, Science and Sensibility in celebration of Native American History Month. In addition, Melissa has been interviewed by multiple publications through her leadership role with DONA International to speak to the importance of the role of the doula.   Melissa is honored to be a contributor to all of these fabulous publications!
Melissa tries to attend continuing education conferences regularly, and has had the pleasure of attending 6 DONA International conferences, and 3 Lamaze International conferences! At these conferences, Melissa has attended sessions and workshops hosted by some of the birthing world's most notable names including: Penny Simkin, John Kennell, Phyllis Klaus, Dr. Marshall Klaus, Dr. John Kennell, Teri Shilling and many others!
Above all, Melissa loves empowering women as mothers, and birth workers as doulas! She believes in the process of birth and encourages women to trust their inner strength. Melissa works with couples to help them discover what their ideal birth looks like, and then to put the plan in place to help them achieve that ideal when possible. Most important to Melissa is that women feel that they are a part of the decision-making process surrounding their pregnancies and birth and that they know that they have options and choices available to them! Melissa believes that there is no "right" way to birth and that each woman has their own individual needs during the childbearing years. She feels beyond blessed for being invited in to witness one of life's most precious moments.
When not working with childbearing families or new doulas, Melissa loves spending time with her family, husband Ken and two teenagers. Her "Mama's taxi" can often be spotted around town especially at the baseball field and drama center. Melissa loves traveling to train and mentor new doulas however she and her family call Tallahassee, Fl, home.